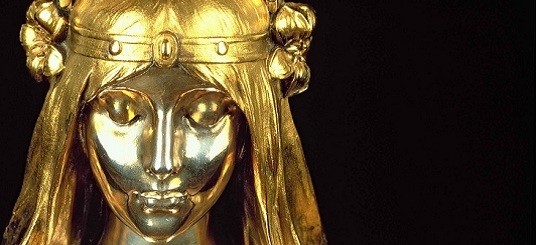 As and when its resources allow, the Mucha Trust acquires additional works to enhance the collection.
Its first acquisition was in 1993 when it was able to acquire Head of a Girl at auction in Paris.
Since then the Trust has acquired many beautiful posters and lithographic works as well as drawings and pastels, sculptures, paintings and jewellery pieces.
We are especially grateful to people who donate works to us and are always delighted to talk to potential donors
Recent acquisitions
La Nature: this iconic sculpture, a version of which was shown in the 1900 Exposition Universelle in Paris, was designed to showcase the wonders of electricity, with a lightbulb where it now holds a malachite egg.
Vin des Incas: this beautiful large-scale edition (77 x 212 cms) is believed to be the only copy in this size.