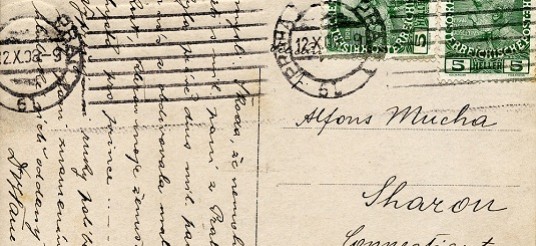 The Mucha Trust Collection includes the most complete collection of Mucha's correspondence and written archive. The principal language of the archive is Czech.
The majority of the correspondence consists of letters between Mucha and his wife, Maruška, and between Mucha and Maruška and other family members. There are also letters from Sarah Bernhardt, Georges Fouquet, Auguste Rodin and August Strindberg and letters between Mucha and other Czech artists and politicians including Mikoláš Aleš, František Kupka, Luděk Marold, Leoš Janáček and Jan Masaryk.
The written archive consists of memoirs written by both Mucha and his wife and papers on artistic and philosophical matters written by Mucha. Additionally there is a wealth of ephemera: newspaper cuttings, photographs, visiting cards, and diaries.
At present, we are only beginning the work of archiving this tremendous resource. Documents are being scanned and recorded as a preliminary step towards the eventual translation of the entire archive into English. The goal is to create a central resource not only for scholars, but also for members of the public interested in learning more about Mucha's life and times.
Supporting the archive project
This is a major project which will take many years to complete.
If you are interested in supporting this initiative financially we would be delighted to hear from you.
We are also keen to hear from any postgraduate researchers who wish to explore this material with us.
Adding to the archive
We are always interested in hearing from people who have letters from or about Mucha: do please contact us if you are able to share this type of ephemeral material with us.