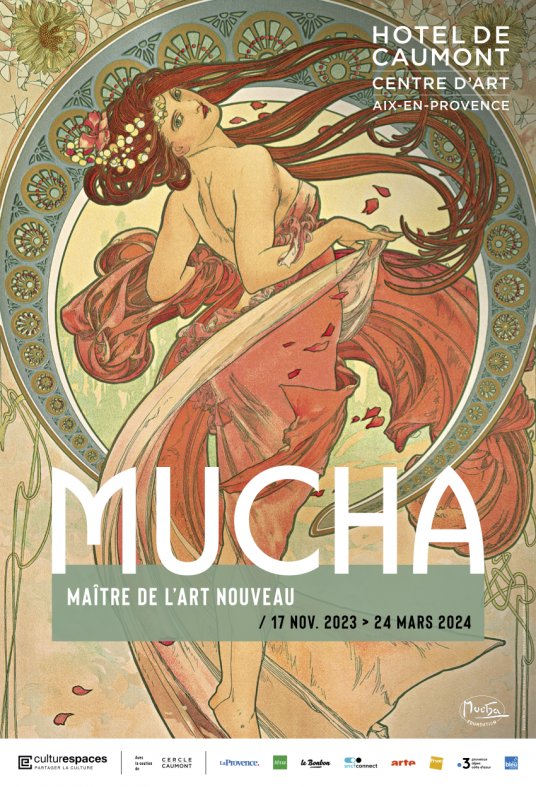 The Hôtel de Caumont is this year devoting its winter exhibition to the great master of Art Nouveau, Alphonse Mucha (1860-1939). This prolific and visionary artist revolutionised his contemporaries perception of art by applying his characteristic aesthetics to many fields, such as posters, advertising, interior decoration, and Belle Époque theatre. Via around 120 works originating from the Mucha Family Collection, the exhibition highlights all the splendour and evolution of Mucha's style, with its blend of mysticism, symbolism, Slavic identity and beauty.
The aim if this exhibition is to show, not only how Mucha's oeuvre, which combined different aesthetics, was fundamentally committed to a cause, and also how the use and appeal of beauty are tinged with symbolism and mysticism throughout his career. Mucha, for whom art is universal, tried to assert his artistic intentions in his work. In addition of the evolution of Mucha's graphic style and the mystical inspiration of his visual language, the exhibition focuses on the artist's committed thinking as a constituent element of his works, which are characterised by beauty and harmony.
Next to the most popular works of the time, showing that Mucha was one of the leading representatives of Art Nouveau (such as the famous advertising posters, including those produced for Sarah Bernhardt, and the famous decorative panels), you will be able to admire the artist's paintings, which have rarely been shown, through a symbolist and allegorical interpretation. The exhibition also reveals his little-known photographic work, both in his studio in fin-de-siècle Paris and also through the documentary photographs and mises en scène that he produced as part of his research for his series of monumental paintings honouring the history of his people, The Slav Epic.