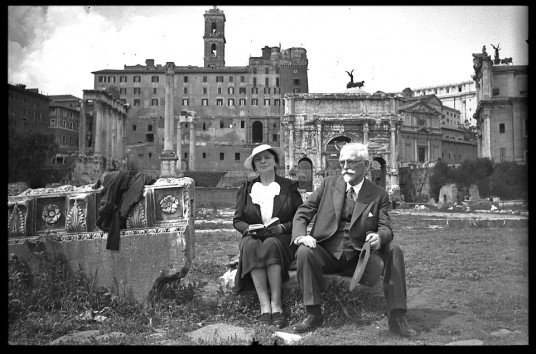 Nearly 100 years after Alphonse visited Rome with his wife Maruska, the Complesso del Vittoriano (pictured behind Mucha and Maruska) is hosting a major retrospective of his work. Presenting over 250 works, including a sumptuous reconstruction of his interior for the Fouquet boutique in Paris, the show explores the artistic vision and ideals behind Mucha's works.
Presenting posters, drawings, paintings, decorative works, books and photographs, the show traces the influence of Mucha's Czech roots and his passionate love of his country on all aspects of his career, from the early pamphlets and illustrated magazines in support of patriotic organisations in Ivančice, through the lean times living as an outsider of the French establishment in Paris and the years of celebrity following his breakthrough poster Gismonda for Sarah Bernhardt, and during the years spent in the preparation and fulfilment of his masterpiece The Slav Epic. It examines the way in which Mucha's love for his homeland and Utopian ideals are manifested throughout his artistic career in all his work. And it demonstrates Mucha's belief in the universality of art and its power to inspire and communicate with people and his vision that through the power of art he could work towards the spiritual union of the Slavs and, eventually, all mankind.
This first major Italian retrospective of Alphonse Mucha's work is held under the auspices of the Istituto per la Storia del Risorgimento Italiano with the patronage of Regione Lazio and Roma Capitale. It is organised and produced by Arthemisia Group in collaboration with the Mucha Foundation.